BizMachine E-commerce Insights: Czech, Slovak, and Hungarian e-commerce more different than it might seem at first glance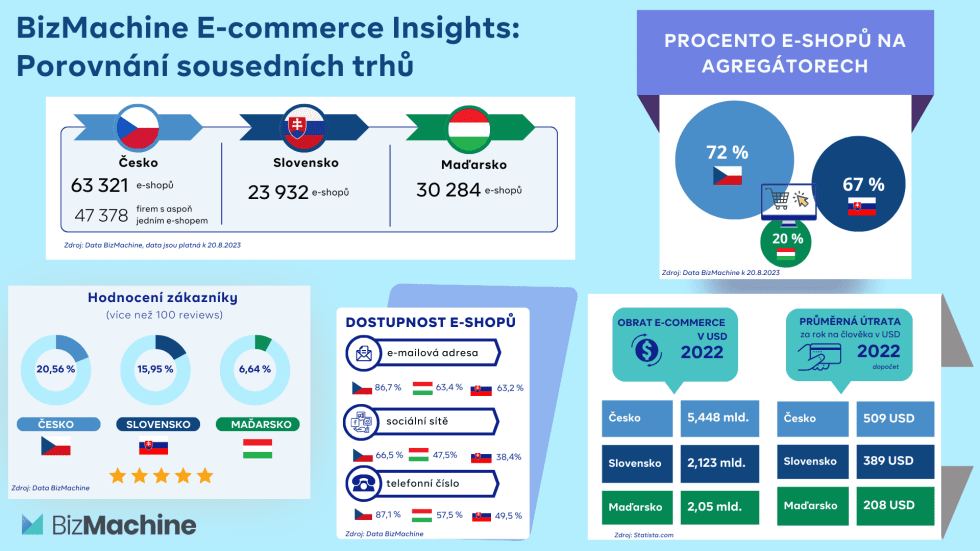 The Czech Republic has been the queen of online trading for years. Not only does it have one of the highest numbers of e-shops per thousand inhabitants, but it is also the country where the CEE e-commerce market leaders are emerging. For most e-shops, one of the neighboring markets or one of the V4 countries is the most interesting for their expansion. These seem to be very similar markets, but the opposite is true. While in the Czech Republic, we are used to the fact that the vast majority of e-shops can be found on comparison sites, in Slovakia or Hungary, it is a fraction of e-shops. Czech e-shops are fighting over which one will be closer to customers. Finding a Slovak e-shop to call is not the rule. Therefore, BizMachine has prepared a clear infographic for those interested in comparing these three markets.

Although the Czech Republic and Hungary are comparable in terms of population, when it comes to business or e-commerce specifically, the two countries are more different than the same. Hungary is in many ways similar to Slovakia, which has almost half the market in terms of potential customers from that country. However, the differences with the Czech Republic are just beginning.
According to the number of all business entities in the Czech Republic (2,807,210), statistically speaking, one in four Czechs is in business, while in Slovakia and Hungary, it is one in five. The Czech Republic is also traditionally characterized by the most significant number of e-shops, also in proportion to the total number of business entities. In mid-August 2023, according to data from BizMachine, there were 63,321 e-shops on the Czech market. There were more than 47,000 companies with at least one e-shop in the country, representing 1.68% of all business entities. Thus, it is true that in the Czech Republic, there are almost 6 e-shops per 1,000 inhabitants. In Hungary, there are about 3.2 e-shops per 1,000 inhabitants. Slovakia, with 4.4 e-shops per 1,000 inhabitants, is between its two neighbors in this statistic. Moreover, companies that operate e-shops have higher turnover in the Czech Republic. Those with a turnover above EUR 5 million are 5% in the Czech Republic, while in Slovakia and Hungary it is 3%.

"Looking at our data, we can also add that in the Czech Republic, it is more common for one company to have multiple e-shops in the Czech Republic. The record holder on our market is the Ostrava company GEMINI CZ 2000, s.r.o. We have identified over 400 unique domains in this organization on which the e-shop was operated. We currently register 26 of them as a healthy, active e-shop. But, for example, we can find 3,113 companies operating at least three e-shops in our country. In Slovakia, it is ten times less. In Hungary, we are at 817 such companies," Jekaterina Bobrakova, an analyst from BizMachine, adds to the statistics of interest.
You are unlikely to find e-shops on aggregators in Hungary
Although similar e-commerce players, including e-commerce aggregators and marketplaces, operate in all markets, their penetration differs across the three markets. While almost 72% of Czech e-shops can be found on aggregators, in Slovakia, it is only 67%, and in Hungary, less than a quarter. Aggregators in Hungary are used mainly by companies with a turnover of up to EUR 1 million. In the Slovak market, we are more likely to find an offer from a company operating an e-shop with a turnover between EUR 1-5 million on a comparison portal than one with a turnover below EUR 1 million.
The ratio of e-shop representation on aggregators is also linked to the number of reviews received. Czech e-shops with more than 1,000 public reviews account for almost 6% of all e-shops, while it is around 3% in Hungary. On the other hand, only 6.6% of e-shops in Hungary have more than 100 reviews (in the Czech Republic, one-fifth of e-shops have at least 100 reviews).
Investment in advertising or availability to customers varies significantly
However, the fact that they are not so often on aggregators does not mean that Hungarian or Slovak e-shops invest more in their promotion—only 4% of Hungarian companies with an e-shop pay for Keywords in Google searches. In Slovakia, it is 7%, and in the Czech Republic, it is up to 9%. Interestingly, if we draw on available sources, these investments in performance advertising are matched by the average spend in e-shops per person per year in the country. For example, for 2022, Statista.com* and BizMachine data calculations showed that the Czech Republic's average annual e-commerce spend per capita was more than double that of Hungary ($509 to $208). Slovak consumers' average spending was similar to their Czech neighbors (at $389).
Differences can also be found in the accessibility of e-shops to their customers. Slovak e-shops are the least accessible to them. They least often have a public email address or phone number. Slovak and Hungarian e-shops also have social media profiles less frequently (only 38% of e-shops in Slovakia and 47% in Hungary compared to almost 67% of e-shops in the Czech Republic).
"All this data shows the maturity of the Czech e-commerce market. And they also mean that there is great potential in the Hungarian e-commerce market. After all, this is also what our clients say - companies that want to offer their B2B business and e-commerce services in Slovakia or Hungary. For them, it is crucial to look at the e-commerce market as a whole. To know exactly who is and who is not on the aggregators, to choose companies according to the specific products and technology platforms they provide or the carriers they have contracted. And that's precisely what our data offers in a basic view," concludes Martin Ondáš, CEO of BizMachine.
*Note:
Unfortunately, it is not possible to find publicly available data describing all three markets based on the same methodology. In our own calculations, we have relied on data and press releases from APEK pro ČR, Heureka for the SK market and several sources for Hungary, including data from CzechTrade, or Czech Embassy. For market comparisons we want to use a uniform methodology across countries, so we work with data from Statista.com, which probably underestimates the size of the Czech market, but we found it sufficient for comparison.
For Editors:
BizMachine is a DaaS (Data as a Service) technology company that helps clients succeed in B2B sales. BizMachine analyzes the digital footprint of companies to bring new business leads to its clients, assist with advanced segmentation and prioritization of business opportunities, or support better conversions with its existing portfolio of clients. BizMachine's tools are built on artificial intelligence and advanced data extraction and processing techniques. Thanks to it, BizMachine processes daily extracted and updated data on all seven million active companies in the Czech, Slovak, and Hungarian markets from more than 100 sources. The advanced processing and visualization of the data thus obtained offers sophisticated analyses even to companies for which it was previously unavailable.
BizMachine was founded in late 2016 by three ex-McKinsey partners: Martin Nepraš, Martin Ondáš, and Martin Lucký. Today, the technology firm has over 300 customers, ranging from smaller local companies to global players such as Microsoft, MasterCard, and Raiffeisenbank.
Together with CzechCrunch, BizMachine has prepared a ranking of the TOP 100 Czech e-shops according to their turnover from online sales in the Czech Republic. The order can be found at https://cc.cz/ecommerce-2023/.